The famous neon Glico man in Dotonbori ©JNTO
Summer in Japan,s water metropolis, where old meets new
Osaka is Japan's second largest metropolis after Tokyo, and is the economic and cultural centre of western Japan. For 1400 years Osaka, a port city, had been a central destination for domestic and international sea trade routes. It was once the capital of Japan and today, its unique history has created a city that blends the old and the new into one amazing experience. Osaka is now even more accessible for the Australian traveller with cheap direct flights offered by Jetstar.
---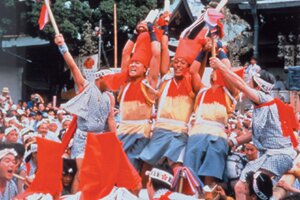 The colour and excitement of the Tenjin Matsuri parade.
©Osaka Convention & Tourism Bureau
A festive city: Tenjin Matsuri
Summer in Japan is a time of celebration, and one of its great festivals - Osaka's Tenjin Matsuri - is not to be missed. Celebrated over two days on July 24 and 25, this 1000-year-old festival is Osaka's most popular summer event. Starting at the Temmangu Shrine, it features thousands of participants and more than a million spectators, making it a truly spectacular event on the calendar.
The Tenjin Matsuri festival is dedicated to scholar, warrior and politician Sugawara no Michizane (AD845-903). It is said to have originated when a sacred weapon known as a halberd was discovered floating in the water near the Temmangu Shrine, where Sugawara no Michizane is enshrined. When the halberd washed ashore, a feast was organised in celebration and a Shinto purification ceremony held. The festival was born from this and since the Edo Period (1603-1867), when Osaka was the bustling business centre of Japan, it has been the most celebrated event on the city's summer calendar.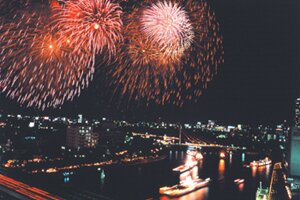 Boats on the Dojimagawa River
©Osaka Convention & Tourism Bureau
Osaka comes alive as thousands of participants parade from the Temmangu Shrine to the Okawa River over a couple of hours. Moving to the beat of heavy ritual drumming and dressed in colourful and traditional costumes, they carry shrines adorned with historical and religious images. On arrival at the river as night sets in, the participants board boats lit with torches and lanterns creating a beautiful spectacle as they sail up and down the Dojimagawa River. The spectators are as colourful as the procession. Dressed in summer kimono, called yukata, they watch the festival and dine on Osaka's finest food from the stalls lining the river. The festival culminates with an incredible display of fireworks, igniting the night sky with bursts of colour and light.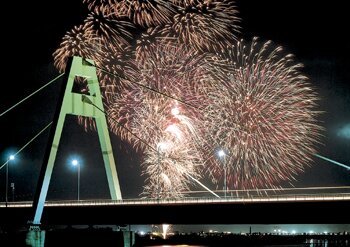 Fireworks light up the night sky

©

JNTO
Fireworks are an essential part of Japan's summer nights, and in August the Osaka area plays host to some of the biggest hanabi taikai or firework displays. On August 1, the Perfect Liberty fireworks display takes place in Tondabayashi. For more than 45 minutes the night sky is aglow with 120,000 fireworks, making it one of the largest and most spectacular displays in the world. If this is not enough, you can watch the Yodogawa fireworks display from the banks of the Yodogawa River on August 4, which is the largest in the Kansai region.
During the Japanese summer, Osaka delivers a true cultural experience and a celebration of life.
---
A cultural identity
Osaka is a great destination for any visitor to Japan, no matter what your interests. The variety of sights and entertainment, ranging from the traditional to the modern, make it one of the most exciting cities in the world.
For a taste of authentic Osaka culture, head to the Minami area for the famous entertainment district of Shinsaibashi, Dotonbori and Namba. The Dotonbori Canal, which runs through the Minami area, is the symbol of the city. In this area there are many restaurants and theatres as well as numerous bars and shops. Neon signs light up the streets, giving it a festive feel, and no visit to the city is complete without requisite photos of the giant mechanical crab or the neon Glico man.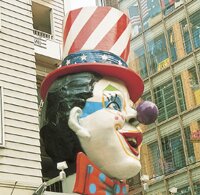 Amerika-MUra ©JNTO
In the Shinsaibashi area is America-Mura, containing thousands of fashion boutiques and clothes stores, and always crowded with young people. This lively Minami district is perhaps te best example of Osaka culture. The vitality and down-to-earth nature of the people is expressed better in this patchwork of culture and energy than anywhere else in the city.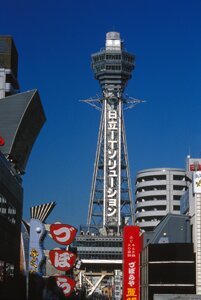 The Tsutenkaku Tower at night
©JNTO
In the Tennoji area, slightly southeast of Minami, we find the Shin-Sekai neighbourhood. This is the location of the Tsutenkaku Tower, modelled on the Eiffel Tower. From its 91-metre high observatory, the tower offers breathtaking views of Osaka and the nearby Rokko Mountains. Nearby Jan-Jan Yokocho is a covered street full of budget-priced restaurants and entertainment. Famous for kushi-katsu, deep fried skewers of meat dipped in sauce, Jan-Jan Yokocho also has stand-up pubs and pinball machines, making it a funky old-school paradise.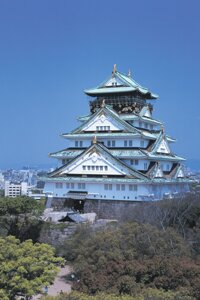 The majestic Osaka Castle
©Osaka Convention & Tourism Bureau
For those more interested in history, a visit to Osaka Castle is essential. Originally built more than 400 years ago by one of the great warlords in Japanese history, Toyotomi Hideyoshi, the white walls and glittering gold features display his power and wealth. The walls reach almost 30m and are made from huge blocks of stone, while the surrounding moats give the castle an unsurpassed grandeur. Today, 13 structures in the castle, including the gates and turrets, have been designated important cultural assets by the Japanese Government. Following a major renovation in 1997 to restore the castle to its original glory, the main tower is now illuminated both inside and out, making it a magnificent sight both day and night.
A perfect day out for both adults and children has to be Osaka's Universal Studios Japan (USJ), which rivals Tokyo Disneyland. A theme park featuring rides and shows associated with Hollywood films and TV programs, USJ is an example of the modern, technologically advanced aspect of Japanese culture. It features 18 attractions including "The Amazing Adventures of Spider-Man: The Ride", as well as attractions unique to USJ such as "Snoopy Studios". The park has guided tours and an array of restaurants and souvenir shops.
---
Flavours of Osaka
Although a large city, Osaka has a laid-back style not nearly as overwhelming as its rival Tokyo. Osaka is famous for its "kuidaore" (eat till you drop) culture, and any visit to the city should include a sample of its local delicacies. Perhaps the most well known Osaka foods are the konamon, flour-based foods, such as tako-yaki, okonomi-yaki and udon noodles. Here's a guide on what to expect and where to find it: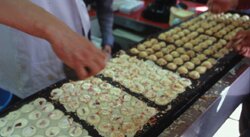 Takoyaki ©JNTO
Tako-yaki
Arguably the most famous of local Osaka food, tako-yaki (small octopus dumplings) is made from a mixture of flour and water with pieces of boiled octopus and other ingredients, which are heated in a pan with small circular moulds. It is served to you piping hot, with a delicious sauce. Tako-yaki is typically found at small specialty shops and stalls, each with their own menu and flavour.

Negiyaki, a local specialty ©Osaka Convention & Tourism Bureau
Okonomi-yaki
Another popular Osaka dish, this pancake-style food consists of a batter mixed with diced cabbage, sliced pork, shrimp, egg and other ingredients, then grilled on a hot plate. As "okonomi" means "to your taste", the choice of meat or seafood is really up to you. Once grilled, okonomi-yaki is topped with a special sauce, mayonnaise, katsuo-bushi (dried bonito flakes) and aonori (finely grated dried seaweed). Some famous okonomi-yaki places include the Chibo chain and Yamamoto in Umeda, which specialises in negi-yaki (okonomi-yaki with chopped spring onion).

A steaming hot bowl of kitsune udon
©Osaka Convention & Tourism Bureau
Osaka udon
In Japan, you can find udon noodles everywhere, but in Osaka, local shop owners have created kitsune udon by adding a thin piece of sweet fried tofu, which is now a standard dish on the Osaka menu. While visiting Osaka, be sure to visit one of the small noodle shops, which feature handmade noodles in their own special broth. The key to good udon is a soup so delicious you savour every last drop.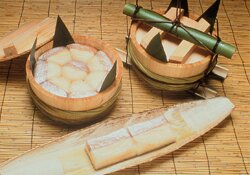 Hakozushi, an elegant Osaka dish
©Osaka Convention & Tourism Bureau
Hakozushi
Sushi is famous worldwide as a Japanese food but the hand-squeezed type usually found overseas actually originated in the Tokyo area. Osaka sushi, called hakozushi (box sushi) is quite different. Sushi rice is pressed into a square wooden mould, with layers of egg, grilled eel, raw fish and other ingredients to make it colourful and tasty. The sushi is then sliced into bite-size pieces and served.
---
Quick guide
Download PDF